Commemorating the centenary of the outbreak of the First World War, London's prize-winning Pegasus Choir presents For the Fallen, an evening of music and poetry written during the first world war and in response to it.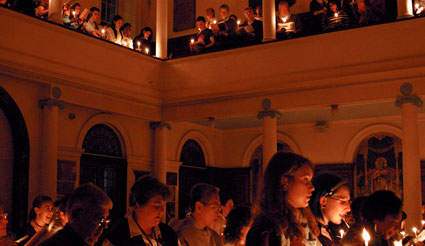 Please join us for our fundraising concert which we're delighted to be hosting in the beautiful and historic 18th Century Guy's Chapel. There is a history of caring and medical endeavour in this corner of London, since the monks at what is now Southwark Cathedral began to care for the sick in the 12th Century.  Their hospice later became St Thomas' Hospital (and Guy's developed from there in the early eighteenth century). A superb setting for us to come together to support BAPAM and help performing arts professionals and students affected by physical and psychological health issues.
For the Fallen
Saturday, 15 November 2014, 7.30pm
The Guy's Chapel, King's College, London
All tickets are £15.
Book online here: https://bapamconcert.eventbrite.co.uk 
The programme includes choral works by Holst, Reger, Ravel, Gurney, and Rachmaninov alongside poems by Sassoon and Owen.
Directed by Matthew Altham, the Pegasus Choir will perform works by composers who experienced the war at first hand, such as Ivor Gurney, who was forever changed by what he witnessed, and Maurice Ravel, who wrote his only choral music while waiting to go to the front to serve as a driver. The programme includes movements from Sergei Rachmaninov's All-Night Vigil, composed for fundraising concerts for Russian soldiers, and the rarely performed Short Requiem written by Walford Davies in 1915 to commemorate the fallen. The evening will also feature readings of poems and letters by writers who served in the trenches.
This year, Pegasus has performed For the Fallen to packed audiences in London and Winchelsea. Audience members wrote that the concert was "wonderfully programmed, very thoughtful and thought-provoking", "very moving" and "an absolute joy".
Pegasus is one of London's most versatile and accomplished chamber choirs. In 2013 it was awarded the Chamber Choir prize at the Florilège Vocal de Tours International Choral Competition in France. Pegasus sings regularly with leading conductors and ensembles such as Laurence Cummings and the London Handel Orchestra, and has also performed with ballet dancer Carlos Acosta at the London Coliseum and the Royal Opera House, Covent Garden. The choir has been featured on BBC television and radio, Channel 4 and Classic FM.
Ticket sales support the work of BAPAM – a unique not-for-profit healthcare organisation supporting performing arts professionals and students affected by physical and psychological health issues. A proportion of the proceeds will also be donated towards the upkeep of the Chapel.
Tags: Choir, Concerts, Doctors, Health, Medicine, Music, Performance, Performing Arts Medicine